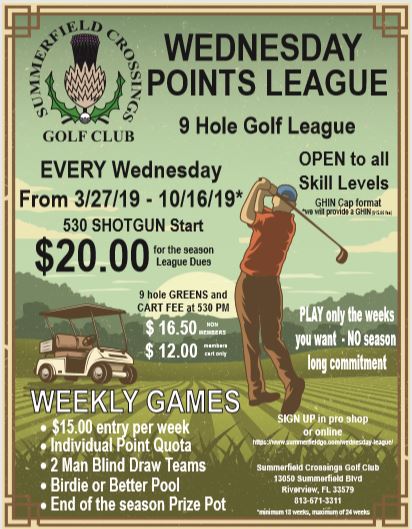 for more information contact Shane Lemay:  wednesdaypointsleague@gmail.com
The Wednesday Night Points league plays every Wednesday, however, golfers are not required to play every week and every Wednesday is a NEW EVENT, require a new entry fee.  However, the more you play, the more "END OF THE YEAR POINTS"  (EOYP) you earn towards the end of the year Prize Pot.  End of the year prize pot grows each week as $1.00 from everyone that plays each weeks gets entered into the pot.  The entry fee of $ 20.00 for the year is also part of the End of the year prize money.  This is modeled after the FEDex Cup Points system on the PGA, the more you play, win or place, the more points you earn.
We will have 4 major tournaments throughout the season.  This means you will earn EXTRA EOYPs when playing in the majors as well as winning or placing in Majors.
This league is open to all skill levels.  We have 0 caps to 40 caps playing.  We will have 2 flights when we have 20 or more players each week for low net individual play.   Everyone MUST have a GHIN, which is the USGA handicap system.  If you do not have a GHIN, we can provide one for you, but for the first 4 weeks, your point total will be limited to a +2 points rating max (can be explained in more detail). Everyone MUST play to a triple bogey (or more up to your USGA GHIN ESC score).
All winnings will be post on the league site, including hole by hole scores of each player.  All scores will be entered into the GHIN by the league.  All winnings will be put in the Wednesday Night Points League PRIZE box in the Pro Shop under your name by the FOLLOWING WEDNESDAY.  Please understand, this is a NOT FOR PROFIT LEAGUE and is run by volunteers.  Winnings, results, etc will be done as quickly as possible.  Mistakes are made and if a mistake is made, we ask you advise of such error by Friday of the week played.  All errors after the following Friday are subject to review.
WHEN: Every Wednesday – 530 pm Shotgun start
Format: Quota points vs handicap – 9 hole (front or back, based on assignment by SCGC) –  THIS IS A NOT FOR PROFIT LEAGUE, which means all money collect for entries is GIVEN back in prize money..  There are no admin fees as well.  Even the league dues of $20.00 per person for the season will be given back in prize winnings.
3 games every week – Individual Point Quota, 2 man blind draw point quota and birdie or better pool
Flights for Birdie or better POOL ONLY each week based on players playing (cannot be determined until all players have played) – 20 or more players to have 2 flights – Flights are based on course handicap, not GHIN cap. Those with same cap will be is same flight (to be equaled as best as possible) – If no skins are won in a flight, then all prize money will be pro rated for all skins won to another flights, no carry overs.
FLIGHTS for Individual Point Quota with 20 or more players, but not for 2 man blind draw
Course handicap is based GHIN for the 9 holes we are playing, front or back.. it is NOT your 18 hole cap
Point Quota is your 9 hole course cap less 18 – example, if your course cap is 7 for back nine holes, then your quota is 11 points (18-7=11).
The SCGC Handicap committee has the right, which this league will honor, to set a MANUAL adjustment for ANY golfer as permitted by the USGA.

Points earned PER hole: Double Eagle or ACE – 6 points; Eagle – 4 pts; Birdie 3 pts; Par 2 pts; Bogey 1 pts; Double Bogey 0 pts; Triple Bogey or worse minus 1 pt FOR ALL PLAYERS – (please note, the MOST you can lose is 1 pt) – Please note.. the minus one is REQUIRED to match everyone's handicap, which is why higher caps will need less points.

EVERY player MUST play every hole up to a triple bogey, regardless of your ESC cap. If you are a 9 or less, you still MUST play to a triple. When your score is posted to the GHIN, your ESC scores will remove all triples.

16 Events is the proposed minimum up to 20. (Could be expanded up to 20 events MAX if no rain outs) Last day of season will be 9/26 or 20 events, could be extended if we have not played minimum 16 events.

League Fee – $ 20.00 to join for the entire season (all entry fees awarded for total Participation points winners)

Weekly entry – $ 15.00 to prize pool
5.00 to individual point quota (1 or 2 flights)
4.00 to birdie or better pool (1 or 2 flights)
4.00 to 2 man blind draw
1.00 to end of year prize pool

PLAY REQUIREMENTS:
9 hole league.
Earn one participation point towards end of season prize money just for playing. (double points for MAJORS)
There will be a 530 pm shotgun start.
You are NOT required to play every week. There is no penalty for not playing, except you do NOT earn a participation point towards end of year game payouts (see below)
If playing, you are REQUIRED to pay weekly $ 15.00 entry to earn POINTS for end of year pool
In case of bad weather, league will be cancelled for the week.  ALL 9 holes must be completed by at least 10 players to be considered played.  With a shotgun start, there is still a chance a group could not finish a hole or two.  They will be considered in the game and will receive NET par on 2 or less holes which they could not finished and they will be eligible for Individual quota and blind draw (if 3 or more holes not completed, they will NOT be in game and receive their entry back)
Minimum of 17 weeks but if no weather issues, we will go to 24 weeks MAX up until 10/15
YOU CANNOT PRE PLAY on other days or times.. Wednesdays ONLY at 530
TEE BOXES, To keep with the SCGC, we will have all CAPS from the Black Tees.

75 + Silver Tees & those 55 and over with a handicap index greater than 9.0
55+ Black Tees and those 54 and Under with a handicap index greater than 9.0
54 and under – Gold Tees
Rule 3.5 will still apply and your handicaps will be adjusted off of the Black Tees.

CAPS – USGA GHIN Cap required – If you do not have a USGA cap, your first round will be set as your cap for the first 2 weeks and then will be adjusted by the GHIN.       ($ 15.00 fee to get a GHIN if required) – This means the very first week, you will be EVEN in points regardless of what your score is.. The second week your cap (point quota) will be what you shot the first week.
End of the Year League Prize Pool.
FORMAT – Earn points each week for playing and placing.
How to earn Points –
Each week you play, you earn 1 point just for playing. If you play 9 weeks or more, you automatically earn 5 BONUS points, this is to encourage playing more often.
Weekly individual point quota places

Individual Point quota will earn points on how you place (this INLCLUDES your 1 participation point)
1st – 6 points – 2nd – 5 points – 3rd – 4 points – 4th 3 points – 5th to 10th place       each receive- 2 points (ties will split points)

2 man blind draw team quota points (each team member gets ½ of the points, ie, 1st place each team member earns 3 points)

1st – 6 points per team – 2nd – 4 points per team – 3rd – 2 points per team (regardless of weekly payouts)

Please note, percentage points will be in play for end of year game.. example if there is a 3 way tie for 10th place you will earn a .3 plus a participation point.. 1.3 pts

To be consider "LEAGUE MEMBER" requires payment of $ 20.00 – all 20.00 entry AND $1.00 per player every week will make up the end of the year prize pool. Example.. 30 members – $600.00, plus avg of 15 players per week x 16 weeks – $240.00 – Estimated prize pool would be $ 840.00.. so first place with 20 members would pay 40% of 840.00, $336.00

Payouts.. based on number of PAID ($20.00 entry up to week 7) members

10-15 League Members – top 3
            1st – 50%          2nd -30%           3rd – 20%

16-20 League Members – top 4
1st – 40%          2nd -30%           3rd – 20%         4th -10%

21-25 League Members – top 5
1st – 40%          2nd -25%           3rd – 13%         4th -10%           5th -7%

26-30 League Members – top 6

1st – 25%          2nd -20%           3rd – 15%         4th -13%           5th -12%                        6th – 9%       7th – 6 %

31-35 League Members – top 8
1st – 23%          2nd -18%           3rd – 15%         4th -13%           5th -12%                        6th – 9%       7th – 6 % – 8 – 4%

This year two of this league and some of these rules maybe altered if needed, by approval of the pro shop.

All results will be posted on online, including up to date points standing for the end of the year game. Please note, we will do our best to have results immediately after all rounds are completed, but there are occasion where results will not be available for a day or so. All prize money will be in your envelope in pro show for the Wednesday league by the FOLLOWING Wednesday.

For the 530 pm shotgun, we ask that everyone would sign up so the course can plan on how many holes will be needed.

You do not need a twosome or foursome to play.. we will pair up individuals, etc the night of so everyone can play.